Home
Blog
News
Increased demand abroad for properties in Greece: Germany scores the top position!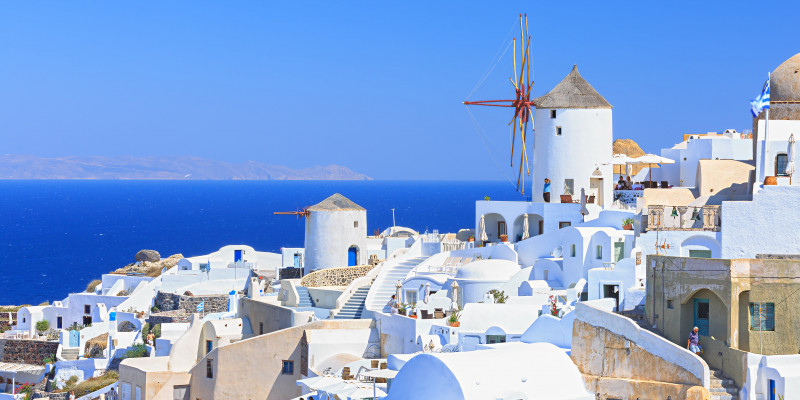 Sunday 12 September 2021
Increased demand abroad for properties in Greece: Germany scores the top position!
---
Increasing trends were noticed in property demand in Greece during the first few months of 2021, in comparison to the two previous years, despite the consequences of the pandemic crisis, according to measurement indexes and evaluation firms registering property sales rates in Greece and Europe.
DBRS Morningstar evaluation firm stresses that there are favorable conditions all around Europe for property purchases, since there is steady supply of low-cost housing loans and a positive balance between housing supply and demand. This combination of factors has already significantly boosted the property market in major European countries, such as Germany, the Netherlands and France.
Greek properties search platforms at the forefront
The first estimations following the analysis of demand for properties for sale in Greece reveal increased visits from countries abroad to platforms, such as η ferimmo.de, which offer Greek properties for sale. Countries such as Germany remain at the top of the search list for Greek properties, with a 70% increase in comparison to 2020. The absence of China from this top-10 is noteworthy. Interest is also expressed by buyers from Spain, the United Kingdom, the USA, Cyprus and France.
5 countries with the greatest demand for properties for sale in Greece in 2021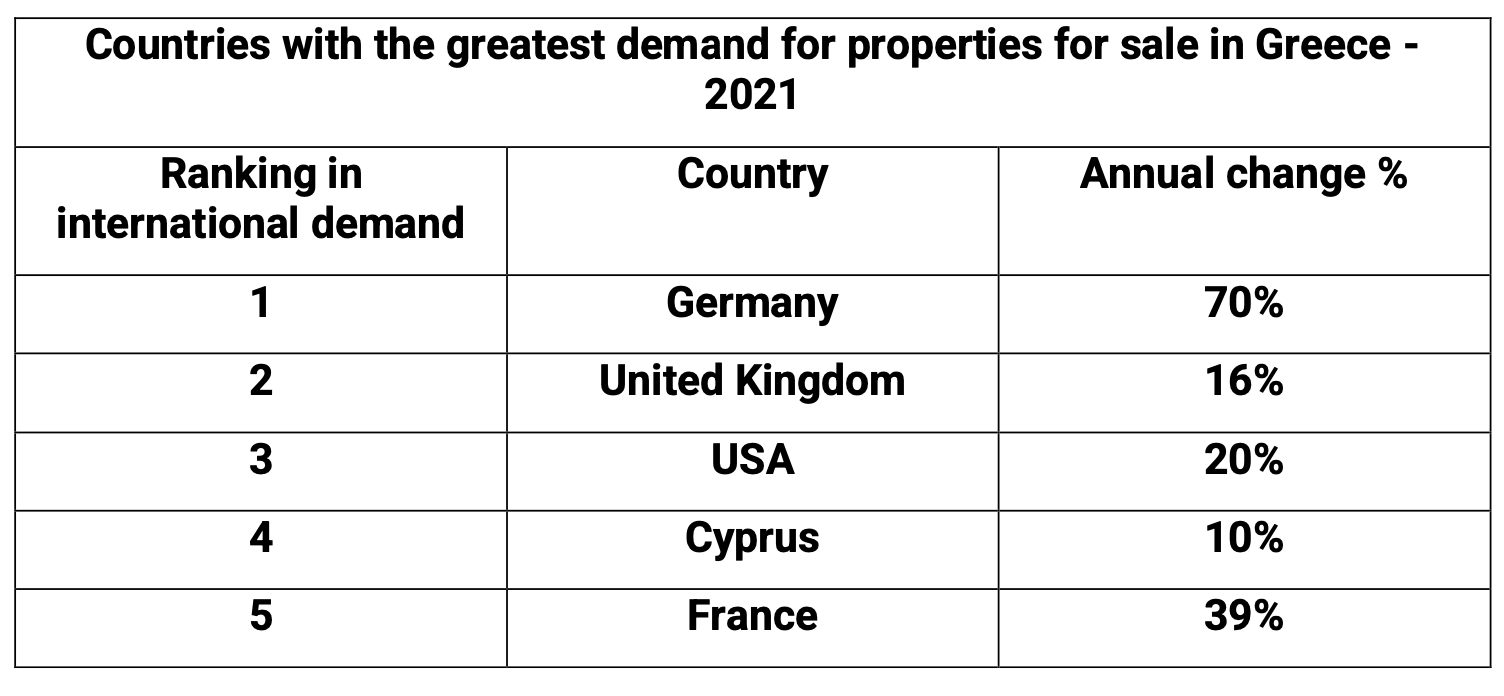 Source: Index SDI, July 2021
The chart shows ranking of countries in international demand (Germany is in the top position)
As stated in a recent article by Deutsche Welle, Germany's constant top position during the least few years in searching for properties in Greece can also be explained by the fact that purchasing a property abroad is very attractive for Germans, due to the low prices of properties in Greece in comparison to Germany. Also important is the ability to make their dream come true and acquire a vacation home in one of the most popular tourism destinations.
As analysts of DBRS Morningstar evaluation firm suggest, "Demand from countries abroad will continue to be the main leverage in the market of residential properties, and the recovery of the local market will be determined by Greece's capacity to succeed in sustainable development". The role of European Union countries, such as Germany, remains important, since Germany is the largest market and the country with the closest financial relationships with Greece, also in the sector of property purchases, as suggested by recent analyses.
Where do buyers abroad search for properties?
During their searches, potential buyers show particular interest for properties in the Cyclades, Athens and Halkidiki, as well as in the suburbs of Thessaloniki.
Respectively, traditional tourism destinations, such as Crete and the Peloponnese, show steadily increasing demand in property searches, with Germans still holding the top position.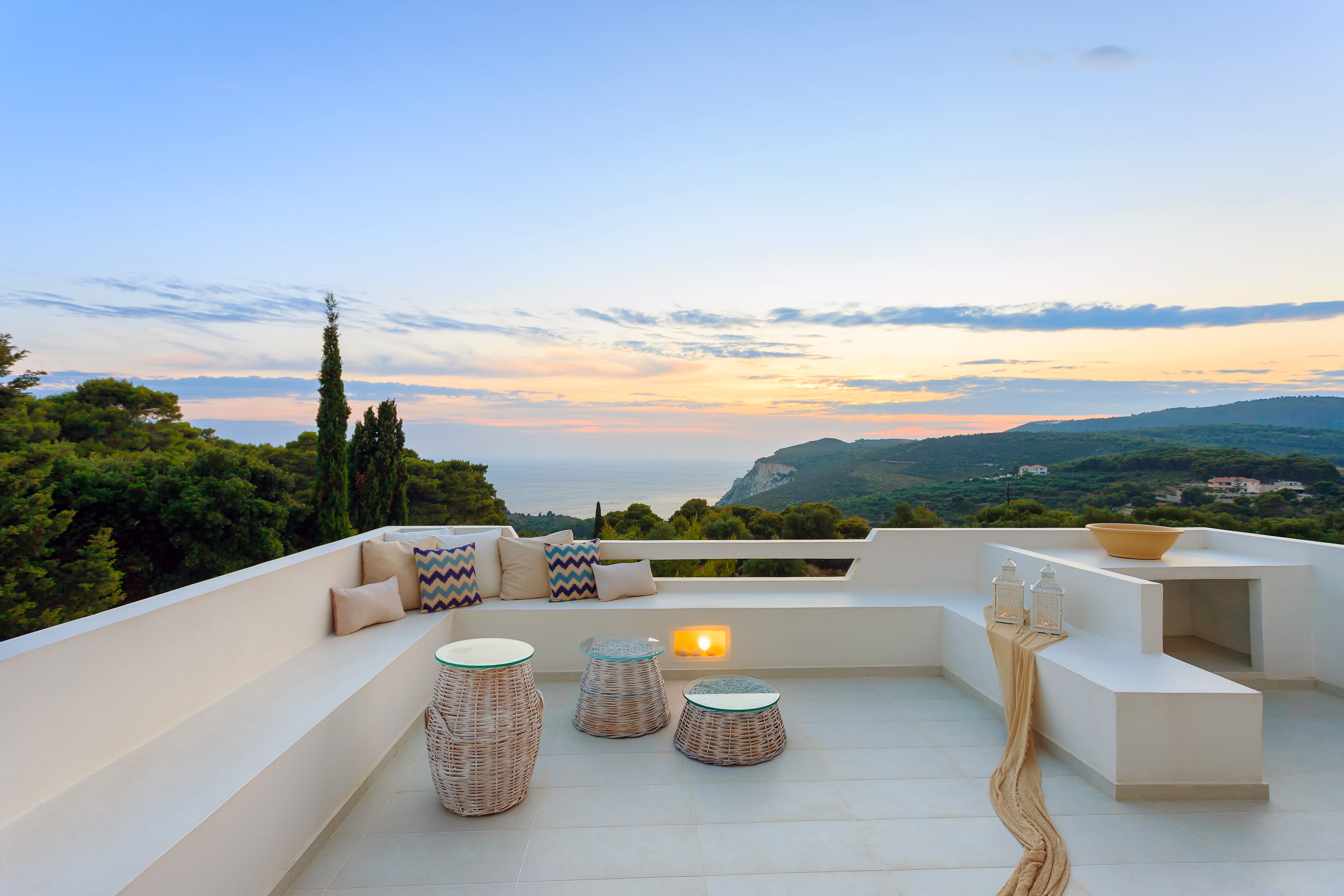 Which properties are preferred in Greece and at what prices?
Potential buyers search for spacious houses, with two or more bedrooms (average residence surface: 95 sq. m.), high energy efficiency and with a preference for a garden or balconies.
Also worth noting is the average maximum price potential buyers are willing to pay, with this price amounting to 247,000 Euro in comparison to 210,000 Euro, the average price logged in 2020.
In addition to being unexpected during a major health crisis, this increase is considered by experts to be particularly auspicious with regard to the course of the property purchase and sale process in our country.
Contact us
We will be happy for your opinions and suggestions to make our platform better for you.
Contact