Home
Blog
News
 International award for FERIMMO - 2020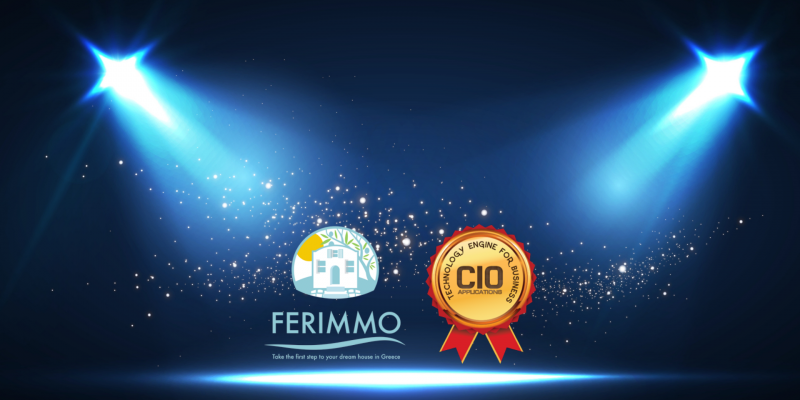 Friday 11 December 2020
 International award for FERIMMO - 2020
---
Top 10 PropTech Solution Providers for second year in a row!
We are very proud to announce that the American magazine CIO Applications Europe has included once again the Ferimmo platform among the 10 best companies internationally in the field of real estate technology for 2020 (PropTech).
CIO Applications Europe
CIO Applications Europe specializes in providing information on new technologies, innovations and the latest trends in the fields of digital applications and the Internet.
Ferimmo
The Ferimmo platform was among the top 10 companies also in 2019, its international distinction again in 2020, is the greatest justification and reward for our efforts.
As the article states, Ferimmo's distinction is based both on the advanced technologies it employs and its distinctive design, as well as on the services and options provided to the platform users. The ability of leveraging the very promising market of holiday real estate (buy/sell) offered by Ferimmo is another factor allowing it to stand out in relation to market approaches.
The article includes a first reference to the future plans of Ferimmo, with regard to the company's development and expansion to all European countries in the near future. These steps will allow it to become gradually established as the single, largest European platform, exclusively used for real estate buy/sell, focusing on holiday homes.
Using technologies such as artificial intelligence & virtual reality, Ferimmo seeks to enhance the services it provides to real estate agents and customers looking for property, allowing them to quickly and easily find the property they're interested in, with a minimum cost, thus significantly increasing property buy/sell.
This important distinction for Ferimmo puts the company in a leading position in the PropTech field, not only in Greece but internationally as well.
You can read the article here.
You can read the Special Edition about the Top 10 worldwide companies in PropTech for 2020 here.
Contact us
We will be happy for your opinions and suggestions to make our platform better for you.
Contact