Home
Blog
Destinations
Discover Blue Corfu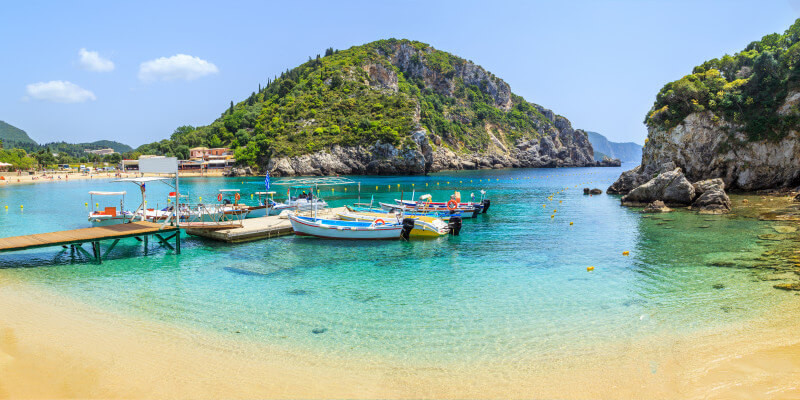 Tuesday 5 March 2019
Discover Blue Corfu
---
Beautiful Corfu, with its crystal-clear, exotic waters, its blue, welcoming skies and its blue-blooded stories, looms like a dream at the wonderful Ionian Sea and promises its visitors an unforgettable time, all around its territory.
Corfu landmarks
Starting from the popular walkway of Liston, we proceed to the chambers and narrow Corfu alleys, a common characteristic of all Corfu villages, along with the use of stone. At Lakones, you will find the epically beautiful Aggelokastro, a tiny corner of the world with a magnificent view that makes you forget the slightly tiring walk it takes to get there. Speaking of castles, don't miss out on the chance to visit the island's landmark fortresses, the well-known Pontikonisi, that has inspired many a song, and Panagia Vlahernon.
Achilleion Palace of Princess Sisi
Leaving castles and fortresses behind, we reach the palaces. At the fairytale-like Achilleion Palace of Princess Sisi, you can marvel at its lush gardens and colorful bougainvilleas, and see the statue of "Dying Achilles", created by German sculptor Ernst Herter. Following the initiative of Wilhelm II, a second statue of Achilles was sculpted, bearing the inscription: "To the Greatest Greek from the Greatest German". For the construction of the Achilleion Palace, Sisi was influenced by her stay at the Mon Repos, the famous Palace at Laganas, built by Sir Frederick for the beautiful local Ntina Palatianou, his great love. Mon Repos often hosts live music shows and enchants visitors with its neoclassical beauty and its movie-like paths.
Best Beaches in Corfu
Love seems to be a major driving force in the island of Corfu. According to legend, the island's famous "Canal d' Amour" was named after a wonderful love story, when a French tourist discovered the first big cave at the sea, swimming along with her lover. Ever since that time, it is said that when a couple swims from one edge of the canal to the other, their love will live forever. Other beautiful beaches of the island include the reclusive Liapades and Kontogialos, while beaches at Alikes Potamou, in Central and Southern Corfu, Bouka, Lefkimi, Agios Georgios Pagon and Arilla offer wonderful waters and provide floating chairs, also making them accessible for individuals with disabilities.
Going back to the history's island, don't forget to visit the museum of Ioannis Kapodistrias and witness his life unfold before your eyes. In addition to its unique exhibits, the museum also offers a magnificent view to the sea.

Be sure to ask the locals where to head for plane spotting. You're in for a lovely surprise and a spectacle that we're sure you'll never forget.
Our last stop is at Palia Peritheia, the "ghost" – village of Corfu, with only two residents, medieval houses and Mark and Saskia's guesthouse, serving home-made jam and honey produced by local beekeeper Vasilis.

Food lovers are sure to find many more delicacies in Corfu, such as pastitsada at Theotokis, at the bay of Garitsa, the mix dishes of "Apovrado" at Kommenos, and the seafood of the twice award-winning "Toula's Restaurant", located by the crystal-clear waters of the Agni beach.
If Corfu was a color, would it be blue, then? More likely, it would be an entire spectrum of colors, mixed with love, sea saltiness, a wonderful history and a bright future.
Contact us
We will be happy for your opinions and suggestions to make our platform better for you.
Contact