Home
Blog
Recipes
Let's make shrimp saganaki!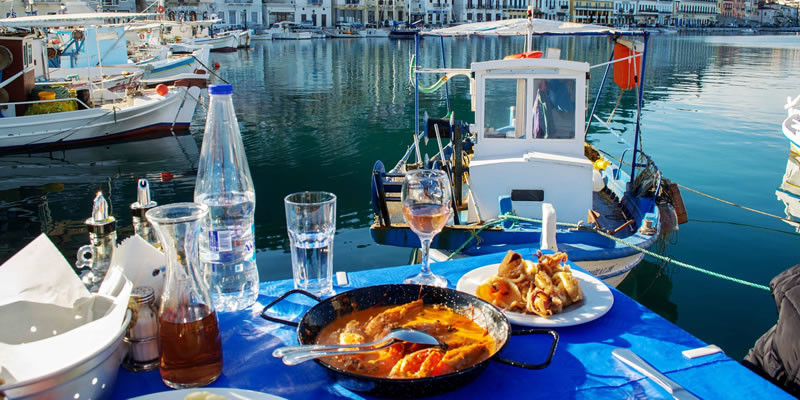 Friday 31 August 2018
Let's make shrimp saganaki!
---
In today's cooking article, we wish to take you to Piraeus and Mikrolimano, so we chose a quick and easy, but, most of all, tasty recipe, born right at the heart of Mikrolimano. In other words, we'll cook shrimp saganaki!
Shrimp saganaki was a plate served massively by Greek restaurants during the first major waves of tourists that flooded our islands in the 60s. The word "saganaki" conjures images of delicious plates that contain shrimp or some kind of cheese. However, the actual meaning of the word itself is an average-sized pan with two handles on its sides. This is also the only pan you'll need to make this unique recipe. Using only one pan allows the flavors of our ingredients to mix and complement each other.
Begin by washing your shrimps, but don't remove their heads or tails. However, do remove their guts. You'll need approximately 10 shrimps. Add salt and pepper. It's important to do this now, to avoid their dehydration and keep them juicy.
Chop up some scallion and put it aside, we will need it later on. Do the same with some Florence fennel, one tomato and feta cheese.
Heat up just a little olive oil in the pan, to keep our dish light, and brown the shrimps. Add the chopped scallion and Florence fennel and let them boil for 4 minutes. Put out with ouzo.
Remove the shrimps from the pan and place them in a plate. Cover the plate (we will add the shrimps back in, in a few minutes).
Add the tomato to the pan and a pinch of sugar. Let it boil for 7 minutes, then re-add the shrimps and keep boiling for another 2 minutes Add the feta cheese and let the heat melt it. Our dish is now ready to serve!
Sprinkle a little parsley to add color to your plate and accompany it with cold ouzo and fresh bread.
You can enjoy this unbelievably easy to cook dish all through the year and you can experiment by adding more ingredients, like pepper, oregano, boukovo or anise. A very light and extra tasty meal, that gives you all the energy you need to enjoy a walk at its birthplace, Piraeus!
Contact us
We will be happy for your opinions and suggestions to make our platform better for you.
Contact