Home
Blog
Destinations
The countless faces of Chania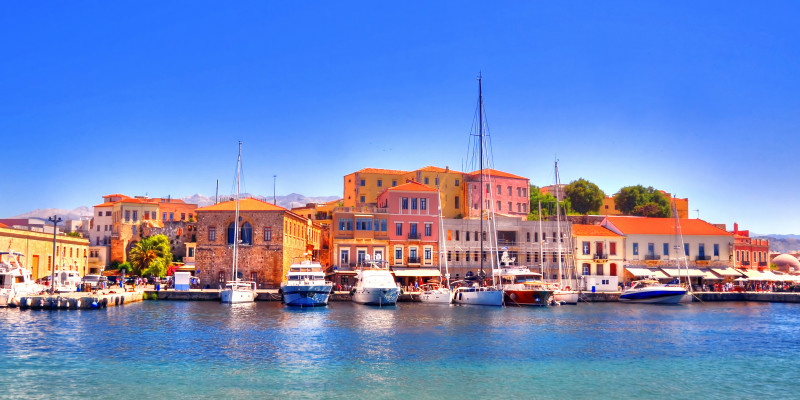 Thursday 6 June 2019
The countless faces of Chania
---
When the old meets the new, when the influences of various cultures form a charming, multi-colored mosaic, when you marvel at the history and beauty that surround you, then you can be sure you've found yourself in Chania!
In Chania, you can take a trip back in time, starting from the old town, also known as "the Venice of the East", embracing its venetian harbor and fortifications, under the light of the well-known lighthouse of Chania, one of the oldest lighthouses in the world. Traces of history are all around you here, with many public buildings having been built using materials from the city's fortification.
The old town is a combination of all the different cultures that left their mark here, with Splantzia – the old Muslim neighborhood with its picturesque alleys and countless tavernas – and the hill of Kasteli worth visiting. Don't miss out on the chance of taking a walk by Maheradika, where you will find traditional shops crafting genuine Cretan knives. For an even greater variety of shops and cafes, you can head to the Nea Katastimata square. At the old town you can also visit the wonderful Folklore Museum with valuable exhibits.
A city's variety is also reflected in its cuisine, and thus, a very good dining option is the Colombo Kitchen Bar, winner of the Chrisostomos award and offering a combination of international and traditional cuisine.
Outside the walls, on the west part of the city, visitors find themselves in Nea Hora. Here you can see the impressive Gate of Sand, also known as the Koum Kapi beach. If you're in the mood for talking an afternoon stroll during the sunset, visit the Municipal Garden and complete your evening out enjoying a movie at the unique municipal outdoors cinema.
In addition to cinema, another art you can enjoy in Nea Hora is architecture. From Evagelistria and Agia Magdalini, to the house of Eleftherios Venizelos (which today houses the "Venizelos" National Research Institute) visitors can admire the different architectural styles and the buildings' historicity.
And if all this walking around leaves you wanting some rest, stop by MeNou kai Krasi, to enjoy traditional appetizers and a glass of wine by the sea. And there's another treat for you, if you happen to find yourself there during the weekend: you'll also enjoy live music!

Chania is a colorful city, offering many options to its visitors, certain to charm and impress you, leaving you wanting more!


Contact us
We will be happy for your opinions and suggestions to make our platform better for you.
Contact